'Grocery Store China?'
by Lynn Dralle, The Queen of Auctions
I was out garage saling with my mom last month and we stumbled upon a full house in Palm Desert. On one of the lower shelves in the kitchen there were a few pieces of Blue Willow china by Churchill. Blue Willow is a very popular pattern and (from what I can figure) over 200 manufacturers have issued this design over the years.
Here
is a link to one of my dinner plates that is for sale on eBay so that you can see the pattern up close.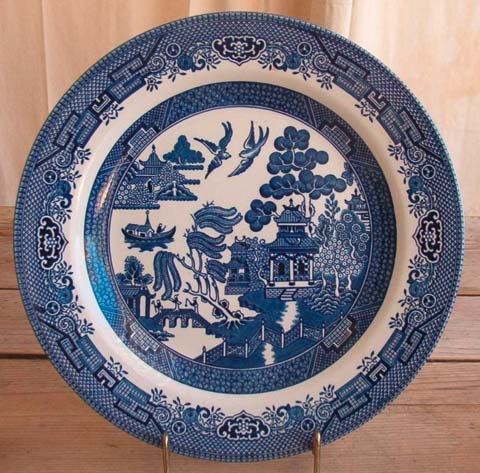 Here is a photo of a sign that tells the legend of this pattern.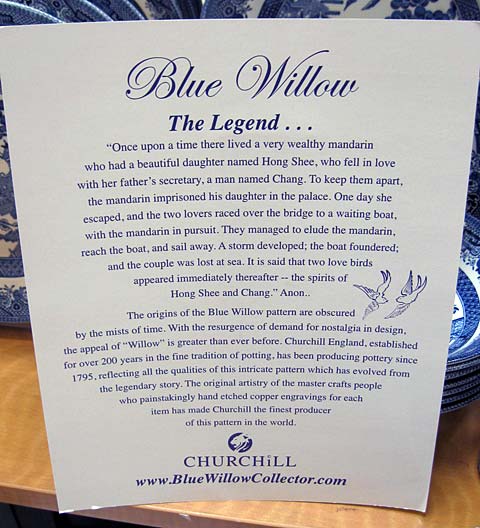 Since it may be hard to read, I have transcribed it here for you:
"Once upon a time there lived a very wealthy mandarin who had a beautiful daughter named Hong Shee, who fell in love with her father's secretary, a man named Chang. To keep them apart, the mandarin imprisoned his daughter in the palace. One day she escaped, and the two lovers raced over the bridge to a waiting boat, with the mandarin in pursuit. They managed to elude the mandarin, reach the boat, and sail away. A storm developed; the boat foundered; and the couple was lost at sea. It is said that the two love birds appeared immediately thereafter -- the spirits of Hong Shee and Chang." Anon
So, back to the house sale in Palm Desert. Since blue willow is so easy to spot and sells pretty well, I decided to take a closer look at pieces on that shelf. There were some vegetable serving dishes and some platters. The sign said $200 firm and there was also a sign that said "Many more pieces".
I asked the lady holding the sale what else she had in the pattern. She opened up her kitchen cabinets and revealed at least 20 dinner plates, 20 bowls, chop plates etc. AND then she said that she had several more boxes in her storage unit that went along with it. I said, "I'll take it."
My mom and I drove back later that evening and followed her to the storage unit. There were not just several more boxes, but there were at least ten more boxes!!! My mom wrote it all up for me on I Sell sheets and it turned into 154 auctions. I got it listed immediately.
What a total score! Or so I thought until I walked into my local grocery store, Ralphs (Kroger). Can you even imagine my dismay when I saw this end cap display? Indy was sweet enough to pose for this photo.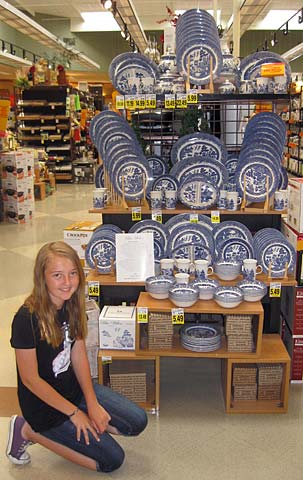 And look at those price points. $5.99 for a dinner plate? $5.49 for a coffee mug? Oh boy!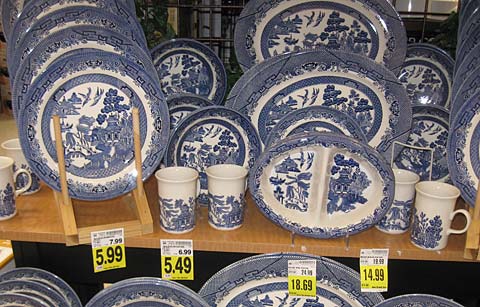 I went home and told my mom about it and felt like I had made a huge mistake. What a bummer! Blue Willow by Churchill was now being sold at rock bottom prices at a grocery store.
Well, the auctions played out and lo and behold, I sold quite a few pieces at auction.
1 - Divided Vegetable $19.99
1 - Coffee Pot $41.00
1 - Platter $49.99
1 - Vegetable Bowl $14.99
5 - Cereal Bowls at $9.99 each
4 - Soup Bowls at $9.99 each
It added up to $215.88 and I recovered my initial purchase price. I was shocked! So I went back to Ralphs to look more closely at that Blue Willow.
When I turned over the different pieces, the back stamp said, "Made in Colombia." That explained it all.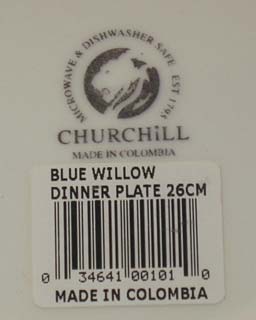 My pieces were all made in England, not South America.
Here are a few samples of the signatures on my items.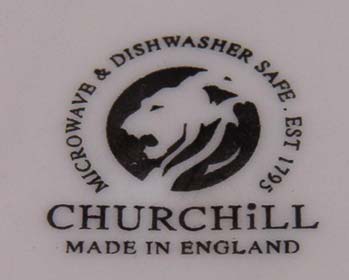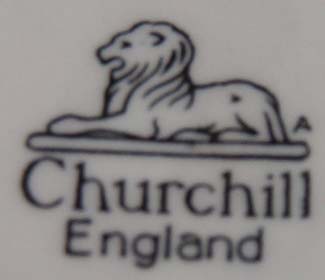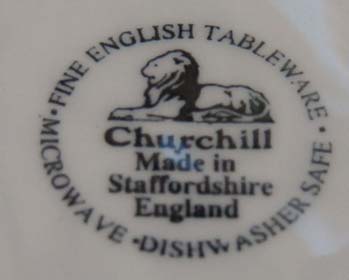 I breathed a huge sigh of relief. After discussing it with my mom, we also came to the conclusion that not everyone has a large grocery store close to them that sells their dinner pattern. It is much easier for many buyers to find what they are looking for on eBay and the Internet. That is why eBay still works. It makes shopping so much easier, faster and convenient.
With that important information in hand, I couldn't wait to get my prices raised and what was left listed in my eBay store. I have 139 pieces listed and they add up to $1786.61. Since listing them in the eBay store and writing this article, I have sold two more items for another $21.98. Grand total now sold is $237.86. When I add that to what is left in my eBay store, it totals out at $2,024.47. This is going to turn out to be a great return on investment! Thank goodness!
I hope that this story helps you to see that even if your dinnerware pattern is being sold at a grocery store, at Marshalls, at TJ Maxx or at Ross, there is still a very lucrative market for selling it on eBay. You just have to find it (check the country of origin), buy it right and get it listed and it will sell!
Happy eBaying!
Lynn
---
Visit my eBay Store.
Visit my eBay auctions.
For more great eBay tips and stories, visit my web site at:
http://www.thequeenofauctions.com
---
WANT TO USE THIS ARTICLE IN YOUR EZINE OR ON YOUR WEBSITE? Yes, you may - just as long as you include all links as they are and append this complete blurb with it: The Queen of Auctions and eBay Power Seller, Lynn Dralle, publishes 'eBay Tips & Tricks' a weekly ezine with 10,000+ subscribers. If you're ready to jump start your eBay business, make more money and have more time, get your FRE E tips now at www.thequeenofauctions.com